XinkVPN – Free VPN Connector For Android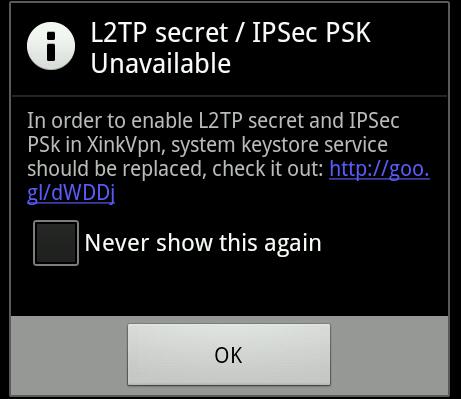 XinkVpn is an Android app with which you can switch VPN connection quickly, provides an alternative for the default android VPN setting. Starting a VPN connection on Android is not very convenient. Normally it requires 7 clicks and writing a password. If you want to avoid writing the password, you can copy it to the clipboard, and then paste it, for a total of 11 clicks. On Android default VPN settings it won't remember the VPN passwords, you'll have to enter the password each time you try to connect. XinkVPN will help you setup and connect to a VPN much more easily on Android.
XinkVPN is a project on Google Code. You can click http://code.google.com/p/xinkvpn/ and go to this project. The latest version of XinkVPN is 3.0 while we post this arcticle.
Features of XinkVPN:
Supports for Android 2.1 – 2.3.3 (2.3.3 tested with HTC device, 2.1/2.2 tested with simulators)
> Supported VPN Types: PPTP, L2TP, L2TP/IPSec PSK
> Supports App Widgets
> With XinkVPN app, you can enter your favorite DNS, such as Google public DNS or OpenDNS.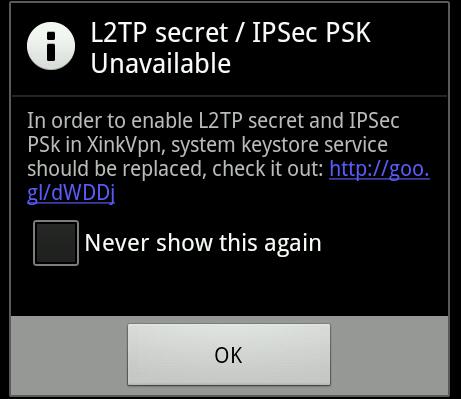 Installation of XinkVPN app:
First download and install the app. Next install the XinkVPN widget on your home screen. On Android this is done by long pressing a vacant spot on the home screen and selecting Widgets from the menu. This will show a list of widgets to choose from; choose XinkVPN from the list.
Configure of XinkVPN:
When you start the app, or click on the XinkVPN widget for the first time, you are asked to fill in your VPN account info. The password will be saved so you don't have to fill it in every time.
Note of XinkVPN:
The XinkVPN project is developed by a Chinese programmer. Please note that most part of the XinkVPN descriptions are in Chinese. XinkVPN app is free for use, but XinkVPN don't offer free VPN service.